Junk food swaps
Looking to cut out processed foods but not wanting to miss out? In this article, we have 8 junk food swaps to help you cut the junk. From chocolate brownies, to microwave meals, thinking about the food we eat each day is important.
1. Swap shop-bought brownies for … Homemade Low Carb Brownies (4g carbs)
Bitesize brownies, or cakes can be tempting as they are just one mouthful but how many of us actually just have the one.
These Low Carb Brownies are easy and quick to make, full of real food ingredients and a will satisfy your brownie needs without taking you off track.
Easy Chocolate Fudge Brownies with Raspberries & Cream (v)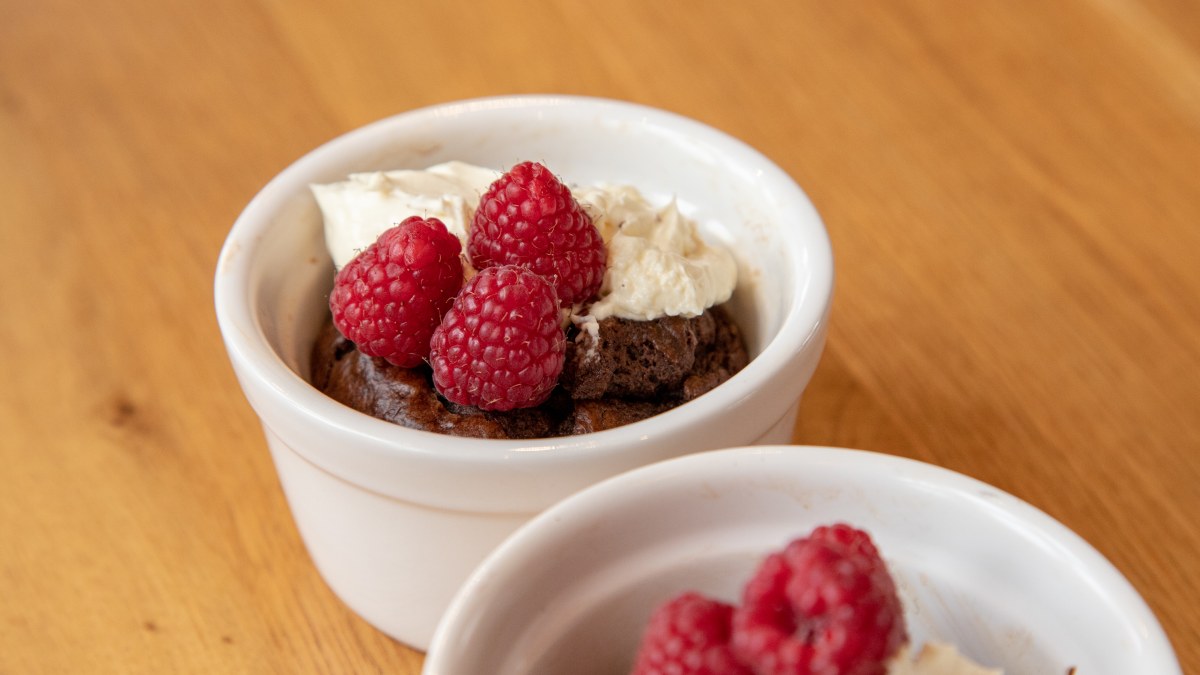 Prep time 5 minutes
Cook time 25-30 minutes
Serves 8
Ingredients
4 Large Eggs
2 Medium Avocados
110g Unsalted Butter
6 tbsp Smooth Peanut Butter
2 tsp Baking Powder
1 tbsp Stevia
2 tbsp Cocoa Powder
2 tsp Vanilla Essence
½ tsp Salt
To serve:
8 tbsp. Extra Thick Double Cream
100g Raspberries
Preparation Method
Preheat the oven to 200°C/180°C fan (390°F/350°F fan) and line a deep baking dish with greaseproof paper.
Add all the ingredients to a blender and then blend until smooth. Transfer the batter to the baking dish and then bake for 20-25 minutes.
Leave to cool before slicing and then serve with the cream and raspberries.
Nutritional values per serving
Calories 384 kcal|Carbohydrates 4g|Total Fat 37g|Protein 9g|
2. Swap regular crisps for … Low Carb Garlic Cheddar Cheese Crisps (5g carbs)
Crisps are a go-to snack for many people, however, even the baked versions can still contain 17.3g carbs per 25g bag so you might want to think twice before picking up the crisps this week.
These Low Carb Cheese Crisps are the perfect alternative, full of flavour with only two ingredients.
Low Carb Garlic Cheddar Cheese Crisps and Sour Cream and Chive Dip (v)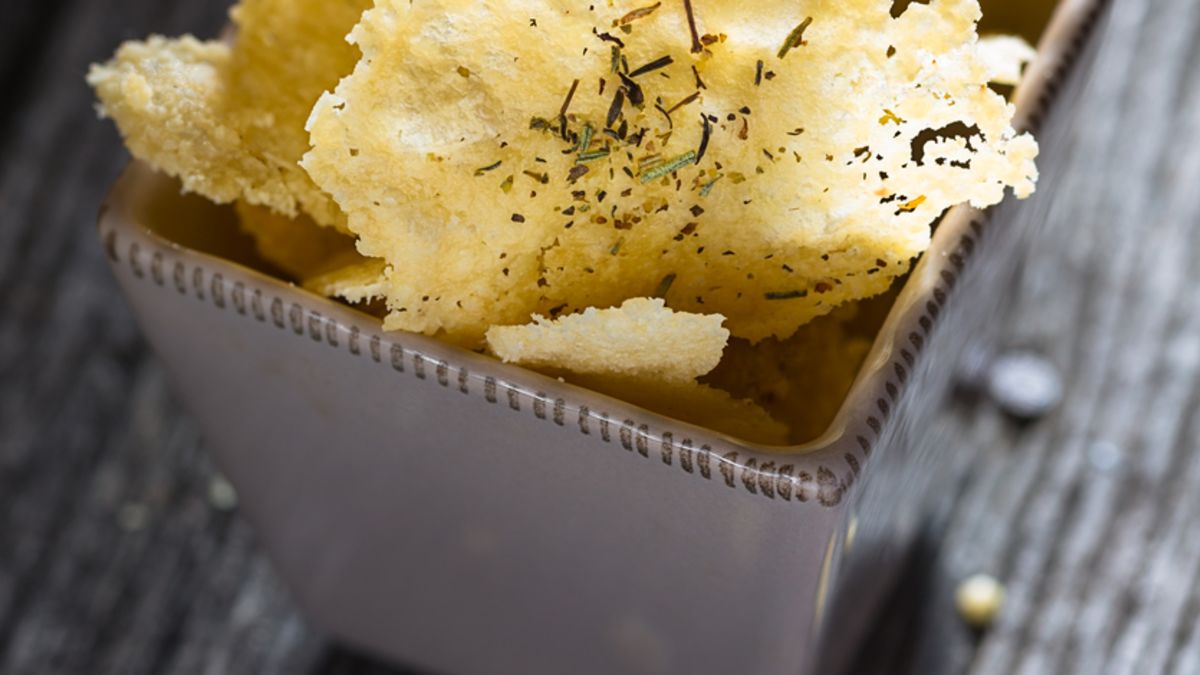 Prep Time 10 minutes
Cook Time 8 minutes
Servings 2
Ingredients 
150g Cheddar Cheese
2 tsp Garlic Powder
5 tbsp Sour Cream
4 tbsp Fresh Chives
Juice of ¼ Lemon
Method
Preheat oven to 200°C/180°C fan then start by grating the cheddar cheese.
Line a baking sheet (or two) with parchment paper sheets.
Place 1 tsp. piles of cheddar cheese about 2 inches apart on the baking sheet (the cheese will spread out so don't put them too close).
Sprinkle a pinch of garlic powder on each pile of cheese.
Bake for 5-8 minutes, until golden (may vary, keep a close eye on them).
Remove from oven and lift parchment paper and place on a cooling rack.
Pat the crisps dry with a paper towel to remove any excess oil from the crisps.
Once dry and cool, remove the crisps from parchment paper.
Finely chop the chives, then mix together the sour cream, chives and lemon juice to make the dip. Serve with the crisps.
Nutritional Information per serving
Calories 584 kcal |Carbohydrates 5 g |Total Fat  53g |Protein 22g|
3. Swap the chips for … Celeriac Chips (1g carbs)
Both oven chips and chips from the local fish and chip shops are often deep-fat fried and very high in carbs and other added ingredients.
Instead opt for one of our many low carb options, celeriac chips, courgette chips, and halloumi fries are all delicious low carb options.
Celeriac Chips (v)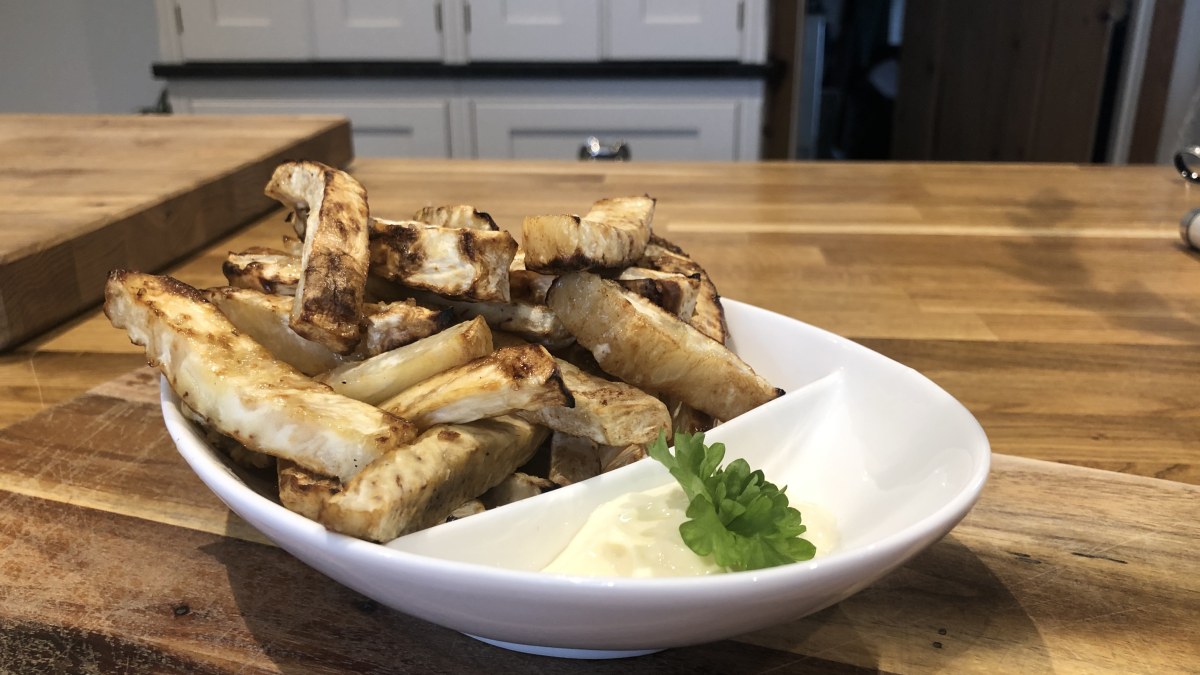 Prep time 10 mins
Cook time 45 mins
Serves 2
Ingredients
1 Medium Celeriac
2 tbsp Olive Oil
1 tsp Rock Salt
Method
Preheat oven to 180°C/160°C fan (350°F/320°F fan).
Peel and cut the celeriac into chip shapes.
Place in a baking tray then drizzle with oil and season with salt.
Place in the oven for 30-45 minutes, depending on how well done you prefer your chips.
Remove from the oven and serve with a low carb dip of choice.
Nutritional values per serving
Calories 22 kcal|Carbohydrates 3g|Total Fat 1g|Protein 2g
4. Swap white bread for … Low Carb Farmhouse Loaf (2g carbs)
White bread may seem tempting, but with around 18.7g of carbs per slice, it may not leave you feeling at your best.
Instead, why not try out a bit of low carb baking and make your own Farmhouse loaf?
Farmhouse Loaf (v)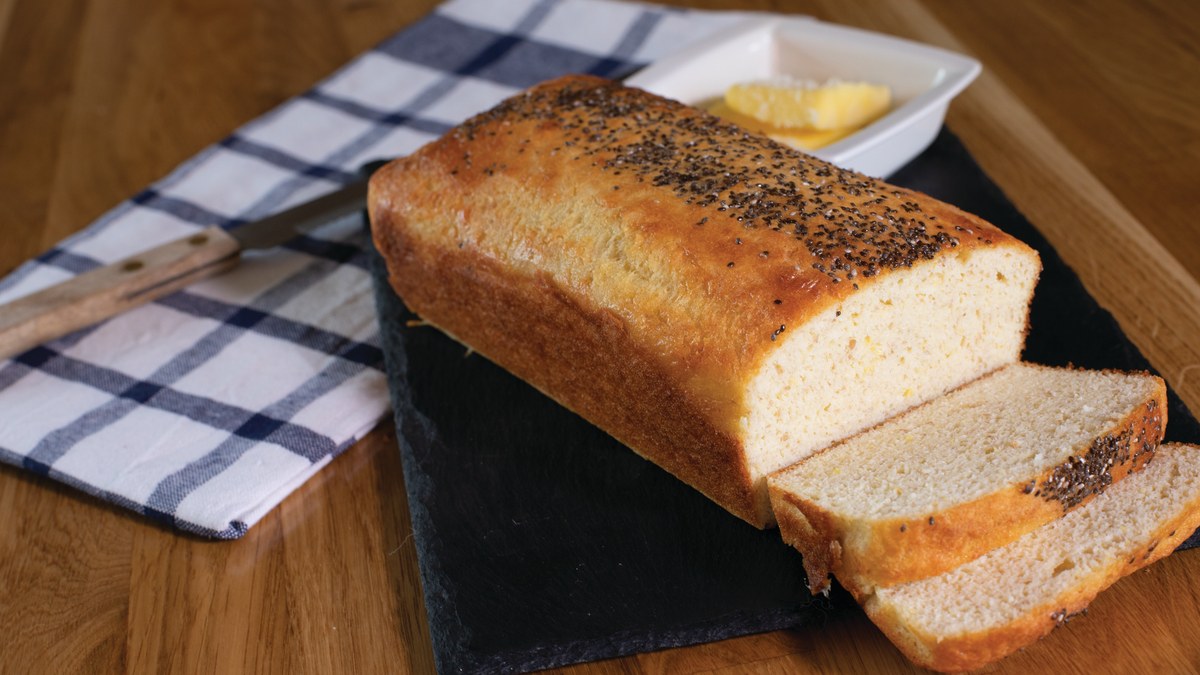 Prep time 10 minutes
Cook time 45 minutes
Makes 10 slices
Ingredients
115g Butter
6 Eggs
170g Soft Cheese
60g Ground Almonds
30g Coconut Flour
2 tbsp Ground Flaxseed
2 tsp Baking Powder
1 tbsp Chia Seeds
Preparation Method
Preheat oven to 180°C/160°C fan (350°F/320°F fan), grease and line a loaf tin.
Start by melting the butter in the microwave or a small pan.
In a bowl, beat the eggs together with the soft cheese and melted butter until smooth.
Add the rest of the ingredients, except the chia seeds, and mix well. Leave the mixture to sit for 10 minutes.
Add the mixture into the prepared loaf tin and sprinkle the chia seeds on top.
Bake for 45 minutes. Remove once a skewer comes out of the middle clean.
Take the bread out of the oven and allow it to cool before slicing.
Nutritional values per slice
Calories 234 kcal| Carbohydrate 2g| Total Fat 22g| Protein 8g|
5. Swap sugary cereals for … No Grain Cereal (4g carbs)
Cereals are often marketed as 'healthy' however, they often contain high amounts of sugar and processing, leading to sugar crashes soon in the day.
Why not try instead our No Grain Cereal which is full of healthy fats and will keep you full up till lunch.
No Grain Cereal (v)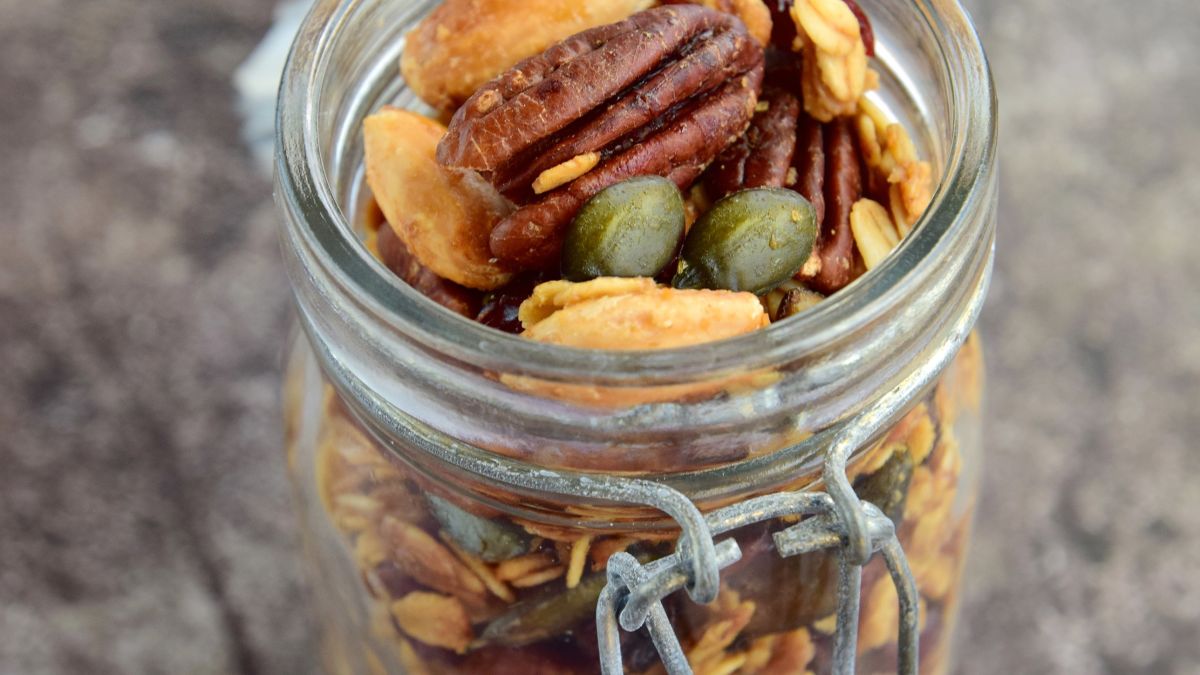 Prep time 10 minutes
Cook time 15 minutes
Serves 2
Ingredients
25g Almonds
25g Pecans
25g Walnuts
1 tbsp Pumpkin Seeds
1 tbsp Flaxseed
1 tbsp Sunflower Seeds
500ml Unsweetened Almond Milk
Preparation method
Place all the dry ingredients in a bowl and mix together well.
Serve with the almond milk.
Nutritional values per serving
Calories 373 kcal | Carbohydrates 4g | Fat 35g | Protein 11g |
6. Swap chocolate biscuits for … Low Carb Twix Biscuits (2g carbs)
Biscuits with a cup of tea can be a hard habit to quit for many people, why not try getting creative with low carb recipes instead?
These Low Carb Twix Biscuits are the perfect treat to satisfy that biscuit craving without going overboard on the carbs.
Low Carb Twix Bars (v)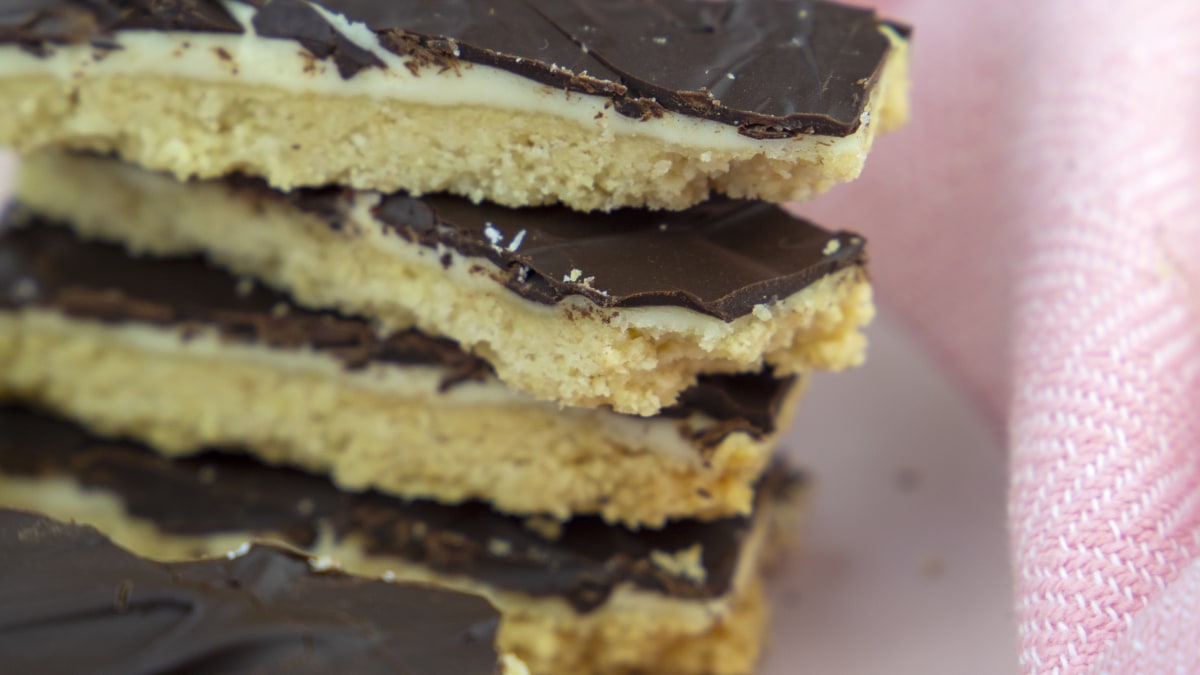 Prep time 10 minutes
Cook time 25 minutes
Setting time 30 minutes
Makes 36 bars/serves 18     
Ingredients
For the base:
150g Ground Almonds
60g Butter
50g Granulated Stevia
For the caramel:
75g Butter
50g Granulated Stevia
150ml Extra Thick Double Cream
1 tsp Vanilla Extract
For the topping:
110g 90% Dark Chocolate
Preparation Method
Preheat the oven to 160°C/140°C (320°F/280°F) and line a baking tray with greaseproof paper.
For the base, cream together the butter and stevia in a bowl. Then add the ground almonds.
Press the dough firmly into the bottom of the baking tray ensuring the dough is spread evenly.
Bake for 10-15 minutes until golden brown then remove from the oven and leave to set. The base will harden as it cools.
For the caramel, melt the butter and stevia in a saucepan over a low heat. Once melted, cook for a further 3-4 minutes, stirring occasionally until the mixture turns a golden brown, watch carefully to avoid burning.
Next, add the cream and raise the temperature slightly to bring to a gentle boil. Then reduce the temperature to a simmer.
Simmer the caramel for 7-10 minutes until the mixture is a golden-brown colour and is thick enough to coat the back of a spoon.
Remove from the heat and mix in the vanilla extract. Then leave to cool for 15-20 minutes.
Pour the caramel over the almond base and chill in the fridge for 10-15 minutes.
For the chocolate topping, melt the chocolate in a microwavable bowl in the microwave for 30-second intervals until completely melted.
Pour the melted chocolate over the caramel and spread with a knife to ensure an even layer.
Let the chocolate set in the fridge 5-10 minutes before cutting into bars.
Nutritional values per serving (2 bars)
Calories 204 kcal|Carbohydrates 7g|Total Fat 18g|Protein 2g|
7. Switch your Indian takeaway for … a low carb curry (8g carbs) and Homemade Naan Bread
An Indian takeaway may seem like a tempting treat, but when you can create the same delicious dish from home whilst staying on track, it seems like the obvious choice!
Chicken Tikka Masala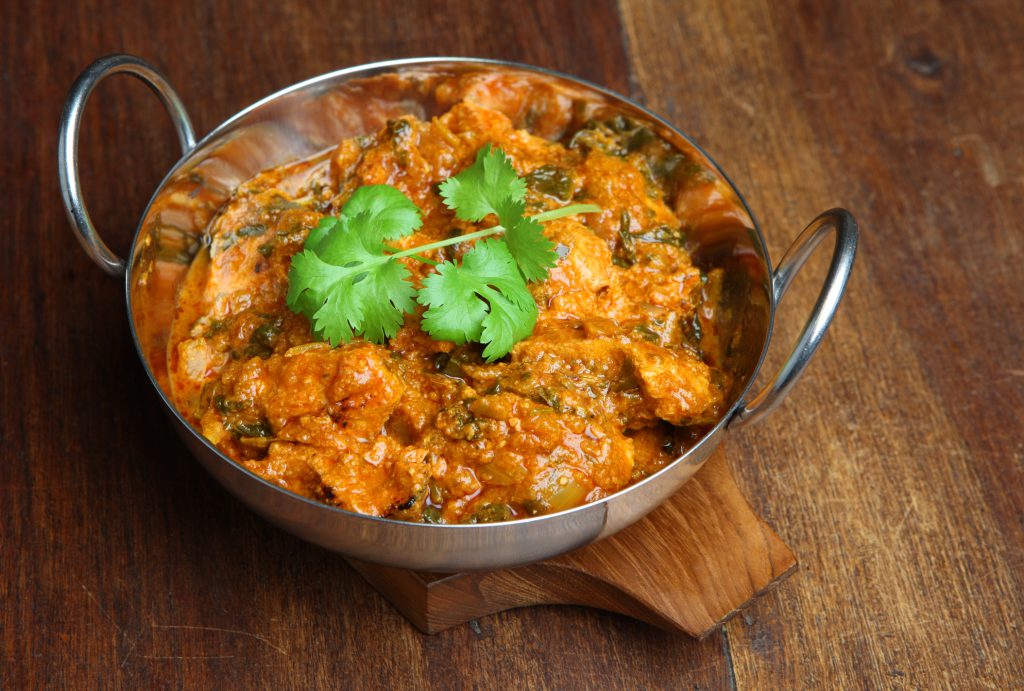 Prep time 10 minutes
Cook time 30 minutes
Serves 4
Ingredients
2 Medium Chicken Breasts
1 Medium Onion
2cm Fresh Ginger
1 tbsp Ground Coriander
1 tbsp Ground Cumin
½ tbsp Paprika
½ tsp Cardamom
½ tsp Cayenne Pepper
½ tsp Nutmeg
1 tbsp Avocado Oil
2 tbsp Tomato Puree
200ml Double Cream
Salt & Pepper, to taste
25g Fresh Coriander
Preparation method
To prepare the ingredients, dice the chicken breasts and onion and mince the ginger.
In a small bowl mix together the dried coriander, cumin, paprika, cardamom, cayenne pepper and nutmeg.
Heat the avocado oil over a medium heat in a frying pan. When the oil is hot add the chicken, leave this to cook fully, stirring occasionally to ensure it isn't burning.
Remove from the pan and set aside. If needed you can add more oil to the pan. Using the same pan add the onions and cook until they start browning. Stir in the mixture of spices and cook for 2 minutes, stirring constantly to toast the spices.
Add the fresh ginger, tomato paste and cream to the pan, stir to mix through. Add the chicken to the sauce and bring to a simmer, then turn the heat to slow and cook until the sauce thickens to desired consistency.
Season with salt and pepper, stir through the coriander and serve.
Nutritional values per serving
Calories 380 kcal|Carbohydrates 8g|Total Fat 29g|Protein 21g|
Low Carb Naan Bread (v)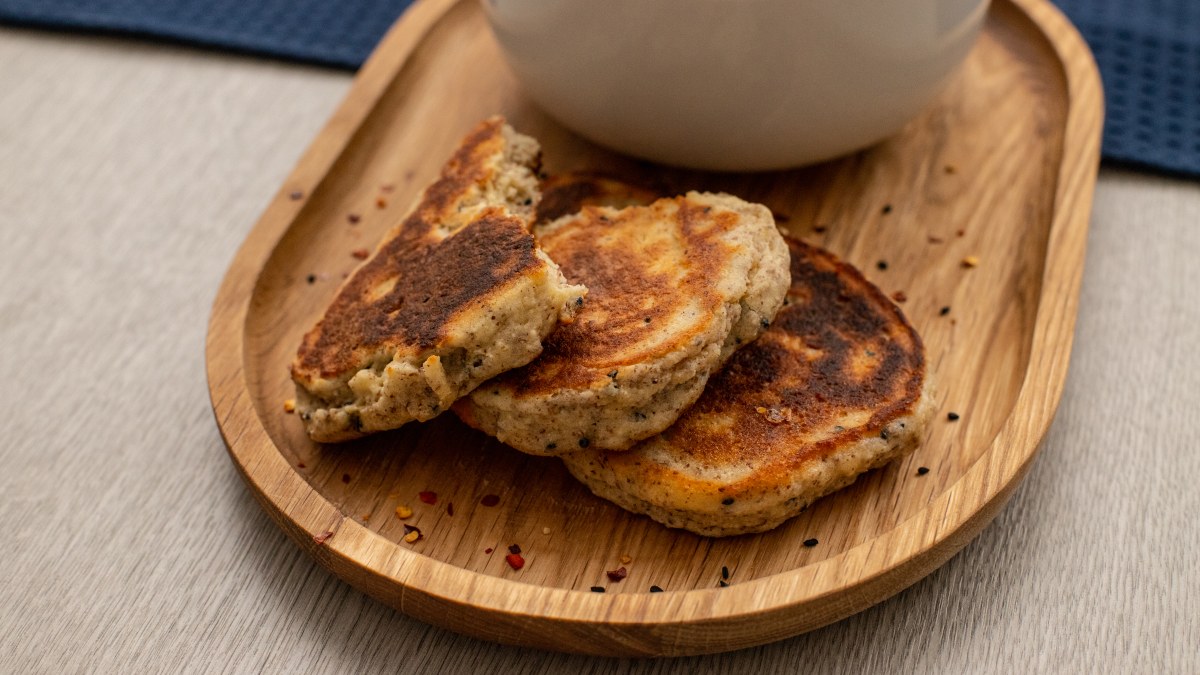 Prep time 5 minutes
Cook time 10 minutes
Serves 4
Ingredients
1 tbsp Ground Flaxseed
1 Egg
40g Crème Fraiche
1 tbsp Olive Oil
½ tsp Baking Powder
¼ tsp White Wine Vinegar
25g Arrowroot Powder
20g Coconut Flour
½ tsp Nigella Seeds
1 tsp Coconut Oil
Preparation method
Add all of the naan bread ingredients, except the nigella seeds and coconut oil to a food processor, and blend to form a thick paste.
Stir the nigella seeds through the paste and heat the coconut oil in a non-stick frying pan.
Add a large spoonful of the paste to the pan, then wet you fingers and gently press the paste to spread it out in the pan.
Fry each naan for 1-2 minutes, then flip using a spatula and cook for another 1-2 minutes on the other side.
Nutritional values per serving
Calories 243 kcal| Carbohydrate 13g| Total Fat 16g| Protein 8g|
8. Swap fizzy pop for … sparkling water flavoured with fresh fruit and herbs
Have you ever stopped to think about much sugar is in just one can of coke? A 330ml can contains 35g of sugar, and that's just in one drink.
Sparkling water, although it is carbonated it has 0g of sugar in comparison.  Therefore, you still get that refreshing fizzy drink but without the sugar and carbs. Adding fresh fruit slices and herbs can help to flavour your water to make tasty combinations. For more inspiration on water flavourings look here.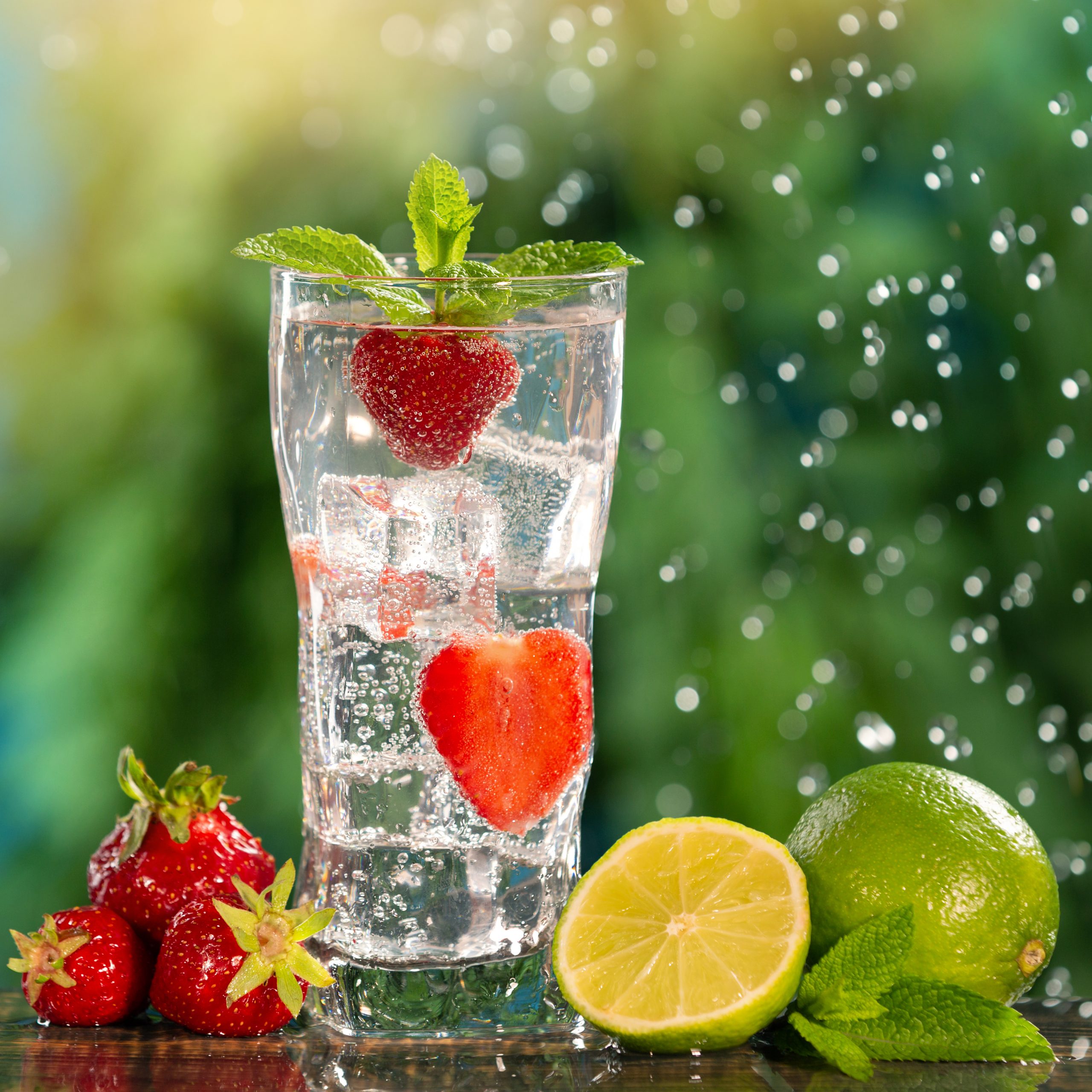 Looking for more low carb swaps? Sign up to the Low Carb Program today for access to thousands of recipes and lifestyle articles full of tips and tricks to make low carb work for you!