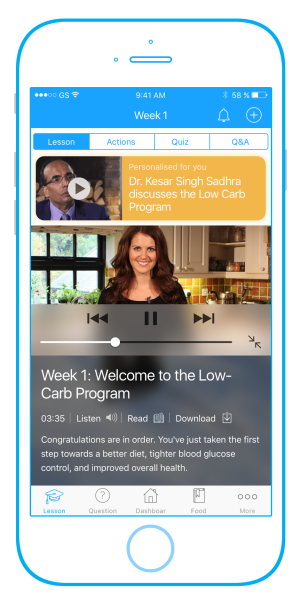 Improve population health
Support your patients to improve their health and wellbeing, with the award-winning Low Carb Program.
Contact Us
Peer-reviewed health outcomes
Our pioneering, peer-reviewed outcomes demonstrate that the Low Carb Program is an effective and engaging solution for improving metabolic health factors. Outcomes reported in Saslow LR et al, JMIR Diabetes 2018;3(3):e12. Read the paper.

7.4kg
average weight loss

1.2% or 13mmol/mol
average HbA1c reduction

39%
of patients reduce their HbA1c under type 2 diagnosis threshold

40%
of patients on medication eliminate at least one medication

60%
of patients on insulin eliminate or reduce the medication

1 in 4
patients place type 2 diabetes into remission
Empower your patients
Provide your patients with a state-of-the-art digital platform designed by behaviour change experts to support long-term health improvements.
Education
Personalised evidence-based education for people with type 2 diabetes, prediabetes, obesity and optimizing metabolic health.
Support
Encouragement and support from over 383,700 members, program champions and behavioural health coaches.
Integrated tracking
Tracking of health markers such as weight, HbA1c, blood glucose, mood or ketones visualise health improvements.
Coaching
Keep motivated and accountable to achieve your health goals.
Resources
Explore a library of resources including meal plans, food swaps, FAQs.
Learn your way
Access the app on the web, iOS, Android and in virtual reality on the Oculus and HTC platform.
What should my patients expect to achieve on the Low Carb Program?
Sustainable weight loss
People with type 2 diabetes or prediabetes who complete the program sustainably lose an average of 7% of their weight.
Improved glucose control
Most people who complete the program improve blood glucose control whilst reducing or eliminating medications and losing weight.
Sustained engagement
More than 70% of people are engaged within the platform at 1-year.
The case studies speak for themselves
Engage your patients with the world's largest metabolic health community.
Lost 3kg
Having lived with diabetes for eight years, Clare's previous diet prevented her from managing her condition. In the first year of her diagnosis Clare was prescribed metformin and attempted to ...
Type 2 diabetes remission
Peter was diagnosed with type 2 diabetes in September 2015. Although he tried several diets to reduce his weight, he found no significant ...
Prediabetes remission
The Low Carb Program is superb. I have now lost 12kgs and my HbA1c is in normal range – I no longer have prediabetes.
Lost 15kg
Sue lost over 3 stones following the program and has been able to reduce her HbA1c below the diagnosis level for type 2 diabetes.
Commission the program
Contact us to learn more about how you can offer the program to your patients.